Soccer Tips - Picking a Tournament Winner
There are a few very important things we focus on, it doesn't matter if it's a short tournament like the World Cup or an extended tournament like the Champions League.
The first game, this is by far the most important game for us to key on, every team is nervous and excited, and eager to go, every team also wants to win this game and start off on a positive note.
Every single World Cup winner won their opening game, with the exception of Italy once when they tied 0-0 in their opener. This pattern holds true for the Euro Cup, Champions League, etc, the shorter the tournament, the more relevant this is, since there is less time to improve your game, so if you come out a loser in your first game, you will have to improve, but you won't have time to do it.
So when a team loses their opening game of a tournament we cross them off immediately, they have no shot.
A perfect scoreline is 2-0, this is a sign of a team that won handily, regardless of the opposition, they got the insurance goal and shut out their opponents. Coincidently, Italy won their opening game of the 2006 World Cup 2-0 over Ghana, lets take a look at some previous World Cup winners and their performance in the opening game...
2006 - Italy 2-0 win over Ghana
2002 - Brazil 2-1 win over Turkey
1998 - France 3-0 win vs South Africa
1994 - Brazil 2-0 win over Russia
1990 - Germany 4-1 win over Yugoslavia
1986 - Argentina 3-1 win over Korea
Lets take a look at past Champions League winners and their results in game one of the tournament...
2006 - Barcelona won 2-0 on the road vs Bremen

2005 - Liverpool won 2-0 at home vs Monaco

2004 - Porto tied 1-1 on the road vs Partizan

2003 - AC Milan won 2-1 at home vs Lens

2002 - Real Madrid won 2-1 on the road vs Roma

2001 - Bayern Munich won 3-1 on the road vs Helsingborg

2000 - Real Madrid tied 3-3 on the road vs Olympiacos
In the Champions League, and other tournaments where teams play home and away, a tie on the road is a decent result, provided they are able to score at least one goal on the road.
The date today is Saturday December 9, 2006, and the Champions League Group Stage just finished, there are 16 teams remaining now, they will continue play in late February, i do not yet know who is playing who in the knockout stage. I will evaluate the 16 remaining teams and list their odds as of this moment at Betfair
*Barcelona - Won 5-0 at home vs Levski
*Chelsea - Won 2-0 at home vs Bremen
*Lyon - Won 2-0 at home vs Real Madrid
*Manchester United - Won 3-2 at home vs Celtic
Real Madrid - Lost 0-2 on road vs Lyon
*Arsenal - Won 2-1 on road vs Hamburg
Inter Milan - Lost 0-1 on road vs Sporting
*AC Milan - Won 3-0 at home vs AEK
*Valencia - Won 4-2 on road vs Olympiacos
*Bayern Munich - Won 4-0 at home vs Spartak
Liverpool - Tied 0-0 on road vs PSV
*Roma - Won 4-0 at home vs Shaktar
Porto - Tied 0-0 at home vs CSKA
PSV Eindhoven - Tied 0-0 at home vs Liverpool
Celtic - Lost 2-3 on road vs Man United
*Lille - Tied 1-1 on road vs Anderlecht
*These teams qualify as contenders based on their performance in game 1.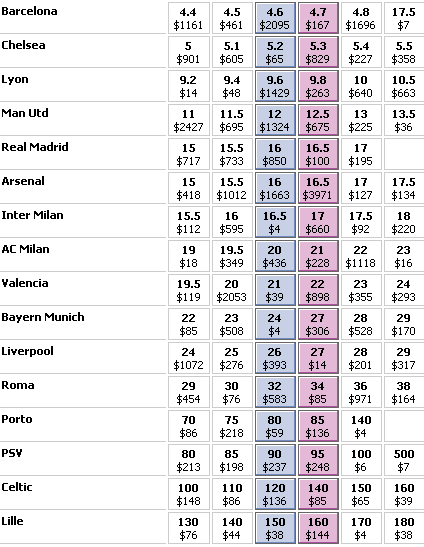 *If you are unfamiliar with Betfair, the odds in blue are what you get if you bet the team to win(back), the odds in pink are what you get if you bet the team to lose(lay). For example, bet $10 on Chelsea to win at 5.2 would return $52 if they win, you win $42, bet Chelsea not to win the tournament at 5.3, you would bet $53 and get back $63, you would win $10 if they don't win.
That was the first step in narrowing down our list of contenders.
We will eliminate last years finalists, Barcelona and Arsenal, since the new format, no team has won back to back, it's just too much physically, no team can play that many high level games in consecutive years and remain in peak form physically, there is the Domestic Leagues, World Club Championships, International Competition, especially this year, many players from Barcelona and Arsenal played in the World Cup.
Now we are left with 8 teams, half the field, it would be nice if we knew the draw, it would help us a lot, we will likely get a few of our 8 contenders playing against eachother.
Now we look at our 8 remaining teams, we have to make sure all of them won at least one game on the road in the group stage, all 8 of our contenders did, some of the remaining 16 didn't but we already eliminated them.
Now we look at their goal totals, did all of our teams score at least 3 goals in any of their group matches, and did they score more goals than they gave up, this is a logical stat, every winner going back over a decade managed to achieve this.
All 8 of our teams managed to achieve this, a few of the other teams that we already eliminated did not.
So we are left in a tough situation, it's not always this tough, but this time around it is, now we have to look for any good reason to eliminate one of these teams from contention...
Chelsea, Lyon, Man Utd, AC Milan, Valencia, Bayern, Roma, Lille
Looking back and profiling the previous winners of the past decade, we notice that all of them won at least 2 of their 3 games at home in the group stage, Bayern and Lille didn't, neither did a few others, but they were already off the list, so now we have 6 teams remaining.
6 is still too many, so i'll go back to game 1 and look for my ideal 2-0 win scoreline, that eliminates Man United, they barely got by a shaky Celtic team 3-2 at home, and i'm left with 5 now, all 5 of my teams were impressive in their first game, Chelsea, Lyon, AC Milan, Valencia, Roma.
I compare the 5 teams with one another, i go to
UEFA Champions League Clubs
, the first thing i notice is that Roma is the worst, having never won an international soccer tournament, so i eliminate them and am left with Chelsea, Lyon, AC Milan, Valencia, all 4 of my teams have won a major soccer tournament in the past 10 years, Valencia has won 3, the Super Cup, UEFA Cup, Intertoto Cup, and beaten twice in the Champions League finals in the past 10 years, AC Milan won 2, the Champions League and the Super Cup, Chelsea won 2, the Champions League and Super Cup, Lyon won 1, the Intertoto Cup.
After i'm done comparing all this relevant info i compare the odds, Chelsea is 5.2-1, Lyon is 9.6-1, AC Milan is 20-1, Valencia is 21-1.
With 16 teams still left, considering everything is equal, they would each be 16-1, that is not the case of course, but it is where i set my line, i have to bet on a team that is higher than 16-1, i have 2 of them, AC Milan and Valencia.
It really helps when you can narrow it down to a list of serious contenders.
Update: AC Milan did in fact go on to win this tournament.
Take advantage of some of the special offers being offered by the online sportsbooks listed below.